Taking the heat out of changing the way companies work
---
---
---
---
This interview with Helen Toogood of HotChilli Consulting about her work at Unilever, was written by Deborah Goodall of Fruitful Conversations and can also be read at www.fruitfulconversations.co.uk.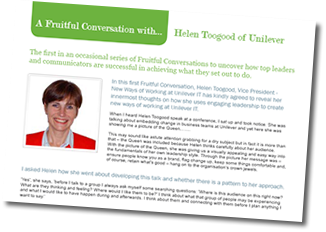 When I heard Helen speak at a conference, I sat up and took notice. She was talking about embedding change in business teams at Unilever and yet here she was showing me a picture of the Queen…
This may sound like astute attention-grabbing for a dry subject but in fact it is more than that. The Queen was included because Helen thinks carefully about her audience….

Download the full PDF of the interview
Leave a Reply
---